FREE

Special Report Reveals 30+ Years of Tested Information Marketing Secrets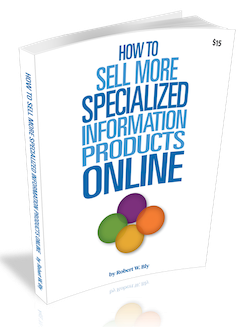 Yours FREE – Bob Bly's
How to Sell More Information
Products Online Handbook!
Since 1979, freelance copywriter Bob Bly has written hundreds of winning promotions for newsletters, directories, books, seminars, and other specialized information products – for dozens of publishers including Medical Economics, McGraw-Hill, Institutional Investor Journals, The Motley Fool, and Forbes.
Now, in Bob's Special Report How to Sell More Information Products Online, you'll discover 30+ years of tested B2B and B2C info marketing secrets – both online and offline -- including:
7 steps to selling more newsletter subscriptions online – page 1.
Conversion secrets for generating sales from hot and cold traffic – page 3.
5 common subscription newsletter marketing mistakes to avoid—page 5.
What premiums work best today for marketing info products -- page 14.
Overcoming "sticker shock" when marketing high-priced info products—page 12.
6 common reasons why subscription newsletter launches fail --page 8.
Making offers that make sense to your prospects -- page 10.
And more….