The Science and Mechanics of Sending and Receiving Emails
3 easy steps to accelerating your mastery of direct mail.
Why direct mail has made a made a roaring comeback in the digital age.
12 reasons why direct mail may work well for you
Getting a direct mail "mindset"
60 ways to use DM in your marketing
Planning: The Professional Approach
10 steps to creating a winning mail plan.
How to establish campaign objectives.
Determining your unique selling proposition.
Targeting the right mailing lists.
Scheduling your mail promotion.
Creating Irresistible Offers
The 6 characteristics of an irresistible offer.
Response-boosting guarantees.
Deadlines and other act-now incentives.
Lead magnets and other free offers.
Offers for increasing direct sales.
Mailing Lists
Where to rent mailing lists.
16 tips for profitable list selection and usage.
The recency, frequency, monetary (RFM) formula.
Optimal number of names on the list to mail.
Identifying list requirements.
Writing Direct Mail Copy
The 4S formula for clear writing.
The BDF formula for writing what prospects care about.
10 tips for writing DM copy that sells.
The Motivating Sequence.
9 fundamentals of persuasion in print.
Direct Mail Graphic Design
Outer envelopes.
Sales letters.
Reply forms.
Buck slips.
Self-mailers.
Direct Mail Production
Setting the production schedule.
Calculating cost per thousand.Calculating break-even
Business reply mail.
Printing and letter shop.
Direct Mail Testing
A/B split tests
Multivariate testing
Statistically valid tests
10 rules for DM testing
Rollouts.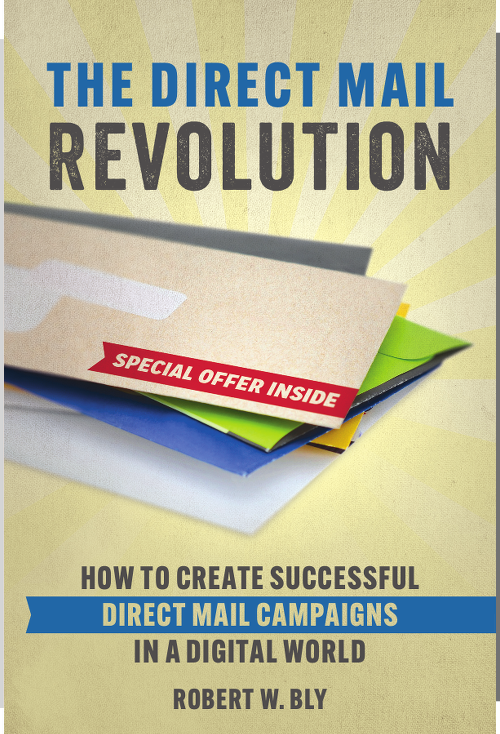 Write Winning Sales Letters
Long copy vs. short copy
50 tips for lead-generating sales letters.
Outer envelope teasers
Sales letter copywriting checklist
B2B sales letters
DM Brochures
Content
Design
Writing DM brochures
Reply Elements
Are reply elements necessary?
Quick Response codes.
Self-Mailers
Formats
8 tips for self-mailer success.
Postcards
Advantages
Copywriting
Design
Landing Pages as Online DM Response Elements
Principle of copy connectivity
How landing pages work.
Qualifying online leads
10 landing page copywriting tips
Optimal copy length
Content Marketing
The role of content in DM
Winning titles for lead magnets
The content marketing plan
Eliminating "content pollution"
Integrating DM with Email
Comparison of DM vs. email
Integrating email into your DM campaign
Hyperlinks in emails
26 tips for writing high-performance email
Sales Funnels
The top of the funnel
The role of DM in sales funnels
Auto-responder follow-ups
Order pages
Shopping carts
Vendors
Bibliography