New
FREE

Special Report Reveals the Secrets of Marketing to Engineers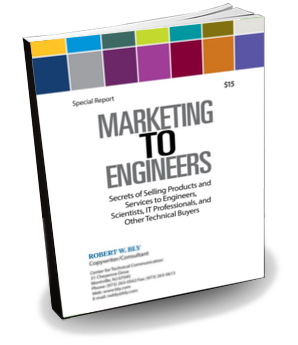 Yours FREE!
Since 1979, freelance copywriter Bob Bly has written hundreds of winning promotions – including landing pages, white papers, e-mail marketing, ads, and sales letters – for over 100 clients including IBM, AT&T, Ingersoll-Rand, and Intech.
Now, in Bob's new special report, Marketing to Engineers, you'll discover 35+ years of tested industrial copywriting secrets including:
6 secrets of marketing to engineers - Page 8.
The 3 characteristics virtually all technical buyers share - Page 2.
The 4 type technical buyers your copy must persuade - Page 3.
Inside the mid of techie customers - Page 5.
Emotion vs. logic in industrial marketing - Page 7.
How strongly are technical buyers influence branding? - Page 15.
10 tips for writing industrial copy that sells - Page 16.
And more....